ICMS Travel, as the official housing bureau for the PESA Conference 2018 has been able to secure discounted accommodation at the Conference Venue - Millennium Hotel. Reservations need to be made before Tuesday, 30 October 2018. The room rates are per night and do not include breakfast. Please note accommodation must be booked during the registration process.
Arrival Time
Check-in time is from 14:00. Should you wish to guarantee your room is ready before the hotel check-in time, it is recommended that you book and pay for the room for the evening prior to your arrival. Failure to advise your arrival time may mean that your room will be released. Check-out time is 10:00.
Accommodation Deposit
To secure your reservation a deposit equivalent to one night's room tariff is required within 14 days of booking being made. Please ensure that valid credit card details are provided at the time of submitting your booking as these details are required to be passed onto the hotel as a guarantee. The hotel may not initially deduct a deposit payment from your credit card but may charge your full payment at the time of checkout. The hotel may charge a processing fee on payments by credit card. Bookings cannot be made until ICMS Travel receives your credit card details. Room rates are in New Zealand Dollars and include the New Zealand Goods and Services Tax (GST) where applicable.
Accommodation Amendments
Any changes required to your accommodation booking can be made online up until Tuesday, 30 October 2018 by logging back into your registration. After Tuesday, 30 October 2018 amendments must be made via email to the Conference Office, not directly with the hotel.
Accommodation Cancellations
Full Nights cancellation fees will apply for all cancellations and reductions received after Tuesday, 30 October 2018 or if the room is not occupied on the advised date of arrival. The cost of any cancellation penalty will be borne by the delegate. The Conference Office cannot guarantee new bookings or amendments to existing bookings after Tuesday, 30 October 2018.
Please note that accommodation has been secured from Thursday, 6 December until Tuesday, 11 December 2018. For accommodation outside these dates please email This email address is being protected from spambots. You need JavaScript enabled to view it. and we will endeavour to secure accommodation at the Conference rate for your extended stay.
Millennium Hotel Rotorua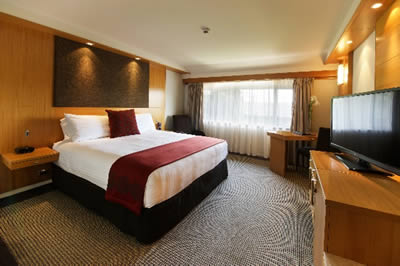 1270 Hinemaru Street
Rotorua, New Zealand
Next to mystical Lake Rotorua and just a brief stroll from the city centre, Millennium Hotel Rotorua is an eco-friendly destination. Our 227 rooms and suites feature residential-style décor with views of Lake Rotorua or the native garden. We also have accessible rooms for guests with special requirements. Perhaps the most unique feature here is its heating, provided by harnessing the hotel's natural geothermal resource.
Take a dip in our heated pool or relax under the expert hands of our therapists in The Spa Rotorua. Indulge in fine dining cuisine at Restaurant Nikau, with its stylish interior and sophisticated culinary options or enjoy a casual dining experience with a choice of alfresco poolside dining at Brasserie Poolside Restaurant.
Room Type Room Rate
Superior Room NZ $175.00
Superior Lakeview Room NZ $205.00
Millennium Club Room NZ $265.00
Cancellation Policy:
Cancellations received within 30 days of arrival will incur a cancellation charge equal to full (100%) nights' accommodation at the Conference rate.
Please note that other accommodation options in Rotorua can be found on the following pages: