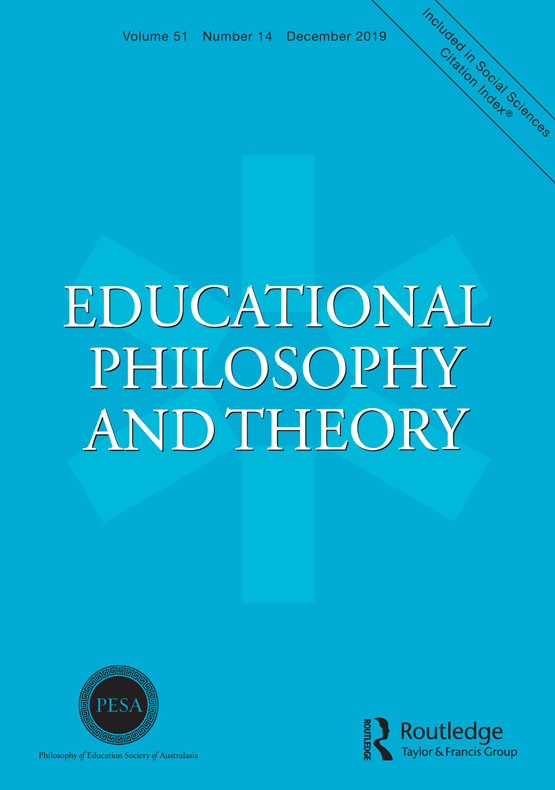 PESA is proud to own the prestigious journal Educational Philosophy and Theory (EPAT) https://www.tandfonline.com/loi/rept20.
EPAT is an SSCI journal with an Impact Factor of 2.054, making it the top journal in the field.
In 2021, the Impact Factor of EPAT has increased from 1.645 to 2.054. The journal now ranks 313 out of 739 in the Education & Educational Research subject area. The CiteScore of EPAT has increased from 1.7 to 1.8. The journal now ranks 33 out of 191 in the History and Philosophy of Science category and 639 out of 1406 in the Education category.
EPAT has fourteen issues a year and publishes a number of special issues annually. For instance, in 2018 the journal published the special issue 'What Comes After Postmodernism?' (https://www.tandfonline.com/toc/rept20/50/14?nav=tocList).
In 2019 the journal published issues on: Kant on Education and Evil; Chinese Ecological Pedagogy; Women, Education and Philosophy of Education; Bildung, Self-Cultivation and Democracy.
Both the content and the style of philosophy has become more open and receptive to Continental and Asian thought as well as to Indigenous Philosophy and identity politics more broadly.
EPAT is the hub of a number of other groups and organizations including The Editorial Development Group. It is a major stakeholder in The Video Journal of Education and Pedagogy and also the basis for The Editors' Collective (http://editorscollective.org.nz/) that sponsors the development of a journal ecosystem comprising several journals.
The Editor-in-Chief is Michael A. Peters, Distinguished Professor of Education at Beijing Normal University
For all general enquiries please contact the Managing Editor at This email address is being protected from spambots. You need JavaScript enabled to view it.
EPAT Editorials are Open Access.
Details about the journal, its aims and scope, editorial board and information for authors are at Taylor & Francis:
View EPAT Online
Feedback about EPAT
Dear Michael,
I just wanted to write and say thank you for the January edition of EPAT. I have always enjoyed and gained from reading EPAT's articles since joining PESA two or three years ago. But the January edition has been my favourite to date. I have so little knowledge of eastern traditions and thoroughly enjoyed expanding my knowledge of Confucian concepts in this edition. Reading the different articles has encouraged me to further investigate Confucianism in the future. I really value the way in which PESA brings together eastern, western and indigenous perspectives at its conferences. This is nicely mirrored in EPAT.
Thank you again,
Karen Bennetts
Melbourne, Australia
Dear Michael and Susanne
I very much appreciate your kindness in writing to me as you did on my laying down my pen as a reviewer for EPAT after all these years. I think I have been with the journal for around thirty years or so and have always enjoyed the tasks that this ministry opened to me. It has been a privilege and a pleasure to have worked with you and for the journal for all this time - as I said to Susanne, it's been quite a journey! But one full of interest and an increase in personal growth of my own too. Thank you for giving me these opportunities, which have always been much valued.
Let me in turn thank you and congratulate you for the immense strides you have made and achievements you have wrought in advancing EPAT from a small journal in this part of the world to a position of world-wide prominence and regard. It has been fascinating to see the ways in which the journal has spread and advanced the boundaries and range of Philosophy and Theory of Education and in the way that you have firmly placed it on the map of all aspirant writers and thinkers in those fields. In both of you there has been a great sense of the presence and purpose of what you could jointly do to extend the reach of the journal's readership an d attraction and I warmly thank and congratulate you both for it. It has been a source of pleasure to work with you both and I have valued every invitation you have kindly put my way. Long may the life and vigour of the journal continue – shining its light out from New Zealand into a far larger and wider world!
With thanks, best wishes and warmest regards,
Yours ever
David
Emeritus Professor D N Aspin