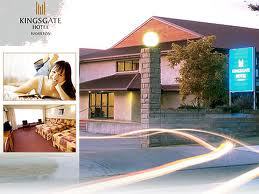 The conference will take place at The Conference Centre, Kingsgate Hotel, Hamilton, New Zealand. The hotel is located at 100 Garnett Road, Te Rapa – approximately 5 minutes from the city centre and conveniently located to reach any out-of-town place of interest. Plenty of free parking is available.
Wifi will be available.
Conference Centre Entrance & Parking
Drive past the reception area and turn to the left where there is a large parking area and the Entrance to the Conference Centre.
Accommodation Booking at Kingsgate
All Conference delegates are advised to register with their accommodation requirements using the online conference registration form and Jade Thorby from Orbit will confirm this on each delegate's behalf, or to email Jade at This email address is being protected from spambots. You need JavaScript enabled to view it. with your requirements.
For those who wish to stay in a separate location, many hotels and motels lie within a relatively short distance – approx. 20-30 min walk from the Kingsgate.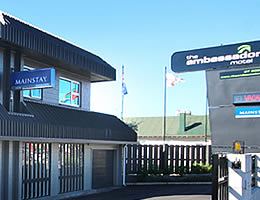 Another hotel option a short distance away that offers rooms and suites to suit different budgets is the Ambassador Hotel, http://theambassador.co.nz
Find the best option for you check out these booking sites: AA traveller website or Wotif.
Further activities and transport and parking details in Hamilton can be found on the Hamilton City Council website.
---
Transport
For assistance with all your travel and visa arrangements, use the options available with Orbit Travel when you register.

Transport to and from Hamilton Airport
It is approximately a 20 minute journey from Hamilton Airport to the central city. Please refer to Hamilton Airport website for information regarding:
Transport to Hamilton from Auckland Airport
Flights
A short connecting flight from Auckland to Hamilton may suit overseas visitors, but with connection times it may be preferable to select a minibus shuttle (see below).
Check Air New Zealand website for times and prices.
Hamilton International Airport has domestic airline connections with some New Zealand cities and a few Australian destinations.
Rental cars
These options are available both in the airport concourse and via complimentary shuttle to rental car operators a short distance outside the airport itself.
You could hire a car for the duration of your trip – get great rates here http://www.vroomvroomvroom.co.nz/
Minibus Shuttle
A minibus shuttle from Auckland International Airport to Hamilton must be pre-booked and costs approximately are $65 one way. Book at http://www.minibus.co.nz/
Intercity Bus
You can get an intercity coach from the International Terminal at Auckland https://reservations.coachbookings.co.nz
---
Dining Out
Hamilton has a restaurant to suit any mood and taste. Please click on the following links to explore the selection of cuisine in the Hamilton area.
---
Travel Around the Waikato and Bay of Plenty
Orbit Travel can arrange activities for you or check out the i-SITE visitor Centres
i-SITE is New Zealand's official visitor information network providing visitors with travel information, tools and advice as well providing a booking services throughout New Zealand. http://www.hamiltonwaikato.com/general/i-site-visitor-centres
Here is the Hamilton i-SITE: www.hamiltonwaikato.com
Local Activities
For swimmers or if you have family with you, Hamilton has an excellent Waterworld swim complex in the street behind the hotel which includes our favourite, the Hydrotherapy pool:
http://www.hamiltonpools.co.nz/index.php
Some of you will be keen runners so check the Conference notice board if you'd like to get together with some of our members - including Peter Roberts, Leon Benade, John Quay, Lynley Tulloch, Liz Jackson, Sonja Arndt and others (rumours are for an early morning 5k run....maybe a new competition -- the Philosophers's race - not to be confused with Monty Python?)

For lovely walks & cycleways, we are fairly close to the Waikato River walkway/ cycleway. Several websites can assist you to find city routes and others beyond the city.

Other Useful websites about Hamilton
45 mins from Hamilton is Matamata, the home of Hobbiton, Lord of the Rings & The Hobbit movie set tours. To arrange a visit, book at i-SITE Matamata or http://www.hobbitontours.com.
Not too far are beaches is Raglan to the West (45 min drive) & some great cafes.
To the East, about 20 minute drive is Cambridge, world famous horse racing stables and high performance sports (cycling & rowing at Lake Karapriro). Approx. an hour away is Tauranga and the beautiful east coast beaches of Mt Maunganui, and The Bay of Plenty. Whakatane sits in the spectacular Eastern Bay of Plenty, and is the location of Te Whare Wananga o Awanuiarangi.
The Coromandel Peninsula is the east. On the way stop at Te Aroha famous for its mineral pools (personally recommended!).
South are the beautiful Waitomo caves and black water rafting.
Rotorua is approx. 1.5 hrs south.
Emergencies
In New Zealand the emergency phone number for police, ambulance, fire brigade is 111 from any phone.
If you you have a minor injury or feel unwell and require non-emergency medical treatment, contact the Kingsgate Hotel reception or ring Healthline 0800 611 116 anytime, day or night for health advice.
Hamilton has several Accident & Emergency Clinics:
Anglesea Accident & Emergency
Anglesea Street (next to ASB Bank), Gate 1 (View on map)
Phone +64 7 858 0800
http://www.angleseamedical.co.nz/
Victoria Central Accident and Medical Centre
750 Victoria Street
Hamilton 3204
Phone: +64 (7) 834 0333
http://www.victoriacentral.co.nz
Waikato Hospital
Emergency Dept
Gate 2, Pembroke Street, Hamilton
Ring 111 and ask for an ambulance or go immediately to the nearest emergency department. If you are seriously worried, don't hesitate to attend an emergency department or call an ambulance. You will receive treatment in priority order (the seriousness of your condition), not the order you arrive in.
http://www.waikatodhb.health.nz/for-patients-and-visitors/in-an-emergency/