General News
General news and announcements relevant to the philosophy of education community.
Practical Rationality, Learning and Convention: Essays in the Philosophy of Education by Christopher Winch
Anthem Press is delighted to announce the upcoming publication of Practical Rationality, Learning and Convention: Essays in the Philosophy of Education by Christopher Winch.

This volume consists of a selection of the writings of Christopher Winch on topics on and related to the philosophy of education from 1988 until the present.

About the Author:

Christopher Winch is currently Professor of Educational Philosophy and Policy in the School of Education, Communication and Society at King's College London.

Further information about Christopher Winch and his work, including Practical Rationality, Learning and Convention, is available here:
https://anthempress.com/practical-rationality-learning-and-convention-hb
Special Spinoza issue of Interstices - Now published
Special Spinoza issue of Interstices: Journal of Architecture and Related Arts now published ("The Arts of Spinoza + Pacific Spinoza"). This publication comes out of a symposium in Auckland that was partly funded with a conference grant from PESA. Featuring articles by Sue Ruddick, Michael LeBuffe, Carl Mika, Sean Sturm and Stephen Turner, Gokhan Kodalak, Jonathan Lahey Dronsfield, and Paul James, with an introduction by Eu Jin Chua.
https://interstices.ac.nz
Carl Anders Safstrom on The Idea of 'Public Education' - new podcast episode
In this episode of the Meet the Education Researcher podcast series, educational philosopher Carl Anders Safstrom (Maynooth University) joins Neil Selwyn to talk about the past, present and future of 'public education'.

We trace the origins of the idea from post-war Europe back to the writing of John Dewey, and even further to the Ancient Greek 'Sophists'.

Carl Anders also considers how models of public education differ dramatically between countries – highlighting recent reforms of Swedish schooling as a cautionary example. ​

The Meet the Education Researcher Podcast series also has other interviews with
philosophers of education.

Link: https://soundcloud.com/eetheducationesearcher/the-idea-of-public-education-carl-anders-safstrom
Australian teachers wanted for PESA funded research project about climate change education
As part of research project, funded by PESA, and conducted by researchers at Monash University and The University of Queensland, we would like to interview school teachers about ethical or professional struggles they may encounter when teaching about climate change and environmental issues, especially within the context of an ecological crisis, like the recent Australian bushfires.

Interviews will take about 45 minutes to an hour and will be audio recorded. Interviews will be conducted over the phone, online (e.g., via zoom or skype); or, if possible, in person in a public but quiet place (e.g., café, library) or meeting room at Monash University or the University of Queensland.

Partipcants will receive a $40.00 gift voucher to compensate them for their time.

If you would like to find out more about the project, please contact one of the researchers using the contact details below and we can provide you with a full explanatory statement.
Dr Jennifer Bleazby
Faculty of Education, Monash University
Phone: (03) 9905-2792
Email: This email address is being protected from spambots. You need JavaScript enabled to view it.

AGM announcement and Call for Nominations
This year's AGM will take place on Monday the 7th of December, 12-2pm Sydney time via Zoom online. The AGM will include a webinar and an election of opening PESA Executive positions. All members are invited to attend the AGM. Please email the Secretary to RSVP and to receive your email invite with the link to the Zoom meeting.

An email with details regarding the AGM and the Call for Nominations for opening PESA Executive positions has gone out to all active PESA members on Monday, 19th of October. If you haven't received the email, please check your SPAM folder and contact the Secretary for further information.


new book: Educational Research: An Unorthodox Introduction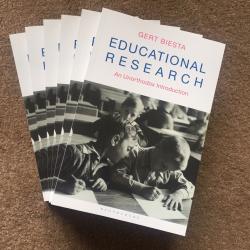 I'm pleased to announce the publication of my book "Educational Research: An Unorthodox Introduction," published by Bloomsbury. https://www.bloomsbury.com/uk/educational-research-9781350097971/
Gert Biesta: SUBMITTING WORK TO THE BRITISH EDUCATIONAL RESEARCH JOURNAL
SUBMITTING WORK TO THE BRITISH EDUCATIONAL RESEARCH JOURNAL
Dear PESA members,
Since 2018 I am part of the editorial team of four of the British Educational Research Journal. The journal, which is the 'flagship' journal of the British Educational Research Association, is a mainstream, peer-reviewed journal that seeks to publish work across the wide range of methods and methodologies and disciplines and subj-disciplines of education. In practice this means that the journal publishes a significant amount of empirical research and, within that, a rather large number of papers that make use of quantitative data. When we submitted our 'pitch' for becoming the new editors of the journal – every four years the editorial team is refreshed – we did state the ambition to enhance the theoretical dimensions of educational scholarship, both within empirical research and in conversation with such research. We have tried to alter the direction of the journal a little through the publication of two hopefully provocative editorials, one with the title "Why the nature of educational research should remain contested. A statement from the new editors of the British Educational Research Journal," (Aldridge et al., 2018) and one with the title "Why educational research should not just solve problems, but should cause them as well" (Biesta et al., 2019). While this has helped in initiating a slightly different conversation about the journal, we are well aware that everything depends on the kind of work authors submit to the journal. I am aware that there are nowadays a significant number of outlets for those writing in the philosophy of education. Yet I strongly believe that we should not just be in conversation with ourselves but also with the wider educational research community, including in those 'corners' where there is a strong presence of particular methods and methodologies. This brief message is just an invitation to consider BERJ as a possible outlet for your work and, more explicitly, for contributions that seek to broaden and deepen discussions about what educational research is and ought to be about.
Gert Biesta

Aldridge, D., Biesta, G.J.J., Filippakou, O. & Wainwright. E. (2018). Why the nature of educational research should remain contested. A statement from the new editors of the British Educational Research Journal. British Educational Research Journal 44(1), 1-4.
Biesta, G., Filippakou, O., Wainwright, E. & Aldridge, D. (2019). Editorial. Why educational research should not just solve problems, but should cause them as well. British Educational Research Journal 45(1), 1—4.
AGM 2019 Announcement
This year's 2019 AGM is coming up on Monday the 9th of December at our annual conference in Hong Kong.

Relevant documents have been send out to all active members on the 21st of October. If you haven't received an email from the secretary, please reach out. You can also find all AGM documents in the Document Archive of the Member's Section of the website (you have to log in with your PESA login).

Looking forward seeing many of you in Hong Kong in December,
Christoph Teschers (PESA Secretary).
Inaugural issue: Philosophy and Theory in Higher Education
Peter Lang announces the publication of the inaugural issue of Philosophy and Theory in Higher Education. PTHE is an international refereed scholarly journal committed to advancing understanding of the role(s) and purpose(s) of higher education. The journal strives to be inclusive in scope, addressing topics and issues of significance to a wide range of scholars and practitioners concerned with the relationship between higher education and society. Rigorous submissions informed by diverse philosophical and theoretical orientations, including, but not limited to, critical theory, existentialism, feminism, queer theory, post-colonialism, Marxism, liberalism, poststructuralism, postmodernism, and posthumanism will be welcomed.
PTHE aims to stimulate critical analyses of policy and practice in higher education, with an emphasis on inter-disciplinarity and international perspectives. The content will be primarily philosophical and theoretically-based research papers. Analytical papers that reflect on empirical projects will also be featured in the journal. Short responses to previous articles as well as essay reviews of new works in the field will be considered in order to promote ongoing critical dialogue within the journal. Proposals for special issues, with thematically linked papers, are encouraged.
The inaugural issue is open-access. To access the first issue, find more information about the journal, and/or submit a manuscript, go to:
https://www.peterlang.com/view/journals/ptihe/ptihe-overview.xml .
Obituary
Professor Emeritus Ivan Snook
Ivan Snook passed away on the 19th October, 2018 at the age of 85.
Professor Emeritus Ivan Snook was a celebrated analytic philosopher of education who came to prominence internationally for his work on the concept of indoctrination. He was a passionate defender of liberal education and spent his life in support of liberal causes including public education. In the late 1960s and 1970s he was one of the leading international representatives of the analytic 'revolution in philosophy' sparked by Bertram Russell, Ludwig Wittgenstein and others, that was championed in educational philosophy by R.S. Peters and his colleagues from the London Institute of Education.
Professor Emeritus Ivan Snook was very active in the Philosophy of Education Society of Australasia during the course of his career and was made a Fellow of the Society in recognition of his contribution to the Society and the field. He was well respected and published extensively in the Society's journal Educational Philosophy and Theory. He has had a long interest in moral philosophy, the status of children, teaching and the rights of education, winning many honours and accolades both for his philosophical work and for his services to education in New Zealand and overseas. In a piece 'Reflections on PESA: 1969-2009' Ivan recounts how Richard Peters spent several months at ANU in 1969 and visited other Australian universities to meet with philosophers of education, who shortly after called a meeting to discuss the setting up of PESA. Leaving New Zealand, Peters spent two days visiting Ivan at the University of Canterbury where he, as he recounts: 'signed me up for a book (which became "Indoctrination and Education") and encouraged me to build up philosophy of education in New Zealand.' He continues:
I was indeed present at the inaugural conference [in 1970] but can remember very little about it. I can recall some of the dramatis personae as mentioned by Bruce [Haynes] but the conference is merged with subsequent conferences. My own paper at the inaugural conference was entitled "Teaching Pupils to Think" and it was later published in "Studies in Philosophy and Education." I recall attending academically rewarding and socially satisfying conferences in Adelaide (2), Canberra, Melbourne (3) Sydney (2 or 3), Auckland (3), Christchurch (2), Palmerston North and, most recently, Wellington. I did not attend any conferences in Perth, Brisbane, Newcastle or Hobart or anywhere else in Australia. During the later 1970's and into the 1980's I ceased to attend the annual conference, for a set of complex reasons which I can only dimly recall.
Indeed, Ivan remembered the PESA conferences in Christchurch (1972) and Auckland (1976) because Peters was the main speaker although Paul Hirst defended his 'forms of knowledge thesis' at the Christchurch. The Auckland conference
was memorable in that Kevin Harris presented his devastating critique of the linguistic approach to educational philosophy, "Peters on Schooling." It affected different people in different ways (I suspect that some in Britain still haven't "seen the joke") but it changed my perspective for ever. Thereafter in my senior classes I would lead the students up the analytic garden path for a month or two and then slap them with Kevin's paper; the results were among the pedagogically most satisfying of my career.
Forgive the extensive references to Ivan's paper but it seems appropriate to allow him the final word on himself.
Was I an analytic philosopher? My first two published papers (written while a doctoral student at Illinois) consisted of strong critiques of linguistic analysis and a defence of traditional metaphysics, epistemology and ethics. But I had not then (1966) come across the work of what came to be called "the London School." When I did, I found their work congenial because it seemed philosophically sophisticated (as much educational theory was not) and educationally relevant (as much educational philosophy was not.) I recall a feeling of great excitement at discovering this literature. My dissertation was on "Indoctrination and The Teaching of Religion", a combination of analytic techniques and more substantive philosophy of religion.
Ivan mentions the courses he took under direction of Harry Broudy and the selection of topics: 'The nature and aims of education; the organisation and administration of education; the school curriculum; teaching and learning.' He was by all accounts a formidable teacher.
Ivan confesses that he did not flirt with Marxism not understand thinkers such as Nietzsche, Kierkegaard, Foucault, and Derrida, but:
The problem was "solved" for me in practice by devoting most of the last 20 years to writing critically of current policy initiatives where the techniques of argument, learned in the analytic tradition, were very useful for critiquing obscure and often ideologically motivated positions lacking in rigour or a research base.
The Philosophy of Education Society of Australasia formally honoured him, along with Jim Marshall and John Codd, at the 2007 at the Conference held in Wellington.
Ivan Snook was a rare individual – at once philosopher, reformer, activist and policy advocate who was able to work with teachers, other professionals and the community to improve New Zealand education. He is without doubt one of New Zealand's leading educators of the modern era and one who engaged with education in the broadest sense.
Michael A. Peters, Editor-in-Chief
Tina Besley, President of PESA
Video: Rene Novak - Virtual Reality - The place of immersive pedagogy
Rene who has been a member of PESA for three years attended and presented at the annual Early Years Research Centre conference at the University of Waikato in New Zealand about his PhD research. The topic investigates the pedagogical potential of virtual reality in early childhood education and offers an innovative methodology of 'seeing' through embodiment in the digital space. Immersive videos employed in the research as a form of virtual reality provide an embodied observational platform that allows the analysis of teacher perceptions concerning ambiguous phenomena in education such as child's play. Several philosophical notions concerning pedagogical immersion through virtual reality technology have been drawn upon to develop a methodological framework for examining the concept of 'seeing' through embodiment.
The Evolution of Truth | Michael Peters | TEDxRuakura